Plusieurs vidéos et photos semblent témoigner que certaines trainées laissées par les avions sont grisâtres ou noir. Le phénomène a évidemment était considéré comme une nouvelle forme d'épandage aérien indiquant implicitement que des produits chimiques inédits étaient déversés. Regardons donc de quoi il s'agit :
D'emblée, nous pouvons remarquer plusieurs choses. Déjà, tous les avions dans cette vidéo sont filmés dans des conditions similaires, ils volent à des altitudes assez proches avec un écart maximal de quelques milliers de mètres et sont tous filmés selon le même angle, à savoir une vue presque horizontale par rapports aux avions filmés. Parfois ces derniers sont légèrement au-dessus du caméraman, parfois légèrement en-dessous mais jamais ils ne se trouvent à un point pleinement supérieur ou inférieur.
En outre, il est intéressant de voir que certaines de ces trainées sont très brèves et non persistantes alors que les chemtrails sont au contraire caractérisés par des trainées censées durer dans le temps.
Allons plus loin avec d'autres prises de vue :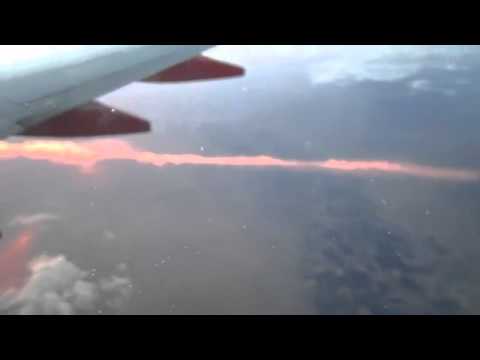 A 1:08, nous avons un avion avec une trainée bleutée, presque grise et encore une fois, l'image est filmée depuis le ciel.
Mais à la 6e minute, nous avons ce qui semble être une explication à ce phénomène de trainées sombres. Nous pouvons en effet voir un avion se diriger vers la caméra. Lors de son approche, la trainée est blanche, bien que celle-ci tire vers le gris là où elle est le plus éloigné de la caméra. Mais une fois l'avion disparu la trainée dévie vers la droite et que voit-on ? Sa couleur vire peu à peu au gris :
Que nous amène à penser cette vidéo ? Hé bien que la couleur grisâtre de ces trainées n'est rien d'autre qu'une question de perspective et de dispersion de la lumière en fonction du point où l'on se place. Il n'est d'ailleurs pas anodin que toutes ces trainées foncées soient vues selon des angles de vue comparables et qu'absolument aucune image prise depuis le sol ne vient illustrer le même phénomène. La raison en est simple, les trainées qui semblant sombres depuis le ciel seront vues blanches depuis le sol.
A 6:44, une trainée grisâtre mais légèrement orangée par le couché du soleil est encore et toujours filmée selon un angle plus ou moins horizontal.
La vidéo se termine avec deux trainées grises filmées dans des conditions similaires, c'est-à-dire légèrement au-dessus de l'avion ciblé.
La couleur des trainées peut légèrement varier d'une vidéo / photo à l'autre. La raison en est simple et est totalement comparable à la couleur des nuages : le facteur clé ici est la luminosité et notamment la position du soleil :
L'image ci-dessus est issue du site de l'université du Texas. A propos de la couleur des nuages, nous pouvons lire : « Storms moving in from the west during the afternoon and evening hours will appear even darker. This is because the angle of the sun means light must travel a farther distance from the top of the cloud to the base of the cloud. Also, clouds composed of bigger droplets tend to absorb more sunlight than those with smaller droplets. »
Traduction : Les tempêtes se déplaçant depuis l'ouest pendant les après-midi et les soirées vont apparaitre plus sombre. C'est à cause de l'angle du soleil car la lumière doit parcourir une plus grande distance depuis le haut du nuage jusqu'à sa base. En outre, les nuages composés de plus grosses quantités d'eau tendent à absorber plus de lumière que ceux avec moins de contenu.
Avant de conclure, je tiens à faire un rappel quant aux images qui trainent sur internet. Il est possible de tomber sur cette photo :
Indubitablement, la trainée apparait particulièrement noire. Or, n'importe qui habitué aux traitements photos s'apercevra immédiatement que la photo a subi un post-traitement, sans doute avec un filtre automatique. Les couleurs ne sont donc pas naturelles ou authentiques.
Il est très simple de parvenir à un tel résultat. Voici une image tirée d'une vidéo, avec donc une qualité d'image légèrement moins bonne que la photo ci-dessus. En dessous se trouve la même photo mais avec un post-traitement :
Comme on peut le voir, la trainée sur la première photo semble grise alors que sur l'exacte même image mais avec une retouche post-traitement celle-ci semble véritablement noire.
Résumons : les trainées noires n'apparaissent comme tel qu'avec des prises de vue aériennes (je mets au défi quiconque de me fournir une image de trainées sombres prise depuis le sol). Leur couleur vient de la luminosité spécifique lorsqu'on regarde une trainée d'un point de vue plus ou moins horizontal. Le teint grisâtre de ces trainées est variable en fonction de l'angle des rayons du soleil et de la position de l'observateur. Cette variation peut également dépendre de la densité de la trainée elle-même.
Conclusion, aucun chemtrail noir (ni aucun chemtrail blanc d'ailleurs) n'est actuellement répandu dans le ciel.